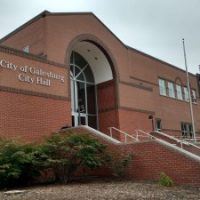 Knox College as well as a Galesburg couple were awarded at Monday night's Galesburg City Council meeting.Landmark Commission Chairman Paul Stewart was there to present the Paver Awards.
He said the award to recognize individuals who have put towards significant efforts in maintaining and restoring historic homes.
The first of the two awards went to Knox College for their work in restoring what Stewart believes may be the oldest house in town, built in 1840.
The George Washington Gale House at 127 E. North St. was the home of Galesburg and Knox's founding father.
Knox's VP for Finance, Keith Archer was on hand to accept the award.
"It's only fitting that the history of the house that Knox College, take it, restore it and maintain it to a level that honors its history," Archer says.
Knox adhered to a historically appropriate color scheme that was recommended by the Landmark Commission.
The scheme is called classic colonial off white with adjoining accents of the color green stone.
They also redid the roof, and had the chimney tuckpointed.
Mark and Jeannette Kleine for renovating a house wealthy lawyer George Lawrence built in the 1880's for $80,000.
They also adhered to historic colors as well restoring stained glass, replacing gutters and adding a conservatory.
Mark said with a wink that $80,000 is all their recent renovations cost.