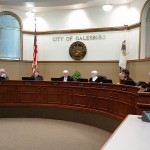 Galesburg City Council held one of their shorter meetings Monday night.
Several parking and traffic related ordinances were passed unanimously without fanfare.
New yield signs are going to be put up on Pleasant Avenue.
Alderman approved adding signs on the street where it intersects with Water and Ferris Streets.
37 city owned properties will likely be up for bid on August 21, but authorizing that was on first reading Monday night.
Ward 1 Alderman Angela Bastian was concerned the city may not get all the money they could with the parcel sales so inquired about setting minimum bids.
Director of Planning and Public Works Wayne Carl said council used to set minimum bids but did a way with the practice.
Carl says they did so to increase the likelihood that the property would sell.
Council also approved an intergovernmental agreement for city employees to maintain traffic control devices at the intersection of County Highway 9 and 10, by Love's Travel Stop.
City Manager Todd Thompson says this should give the city about $2,500 in annual revenue.