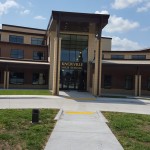 An amended budget was presented at a public hearing last night right before the regular monthly meeting of the District 202 school board.
Knoxville Superintendent Steve Wilder spoke on the fluctuation of finances in the month between the May and June meetings and the changes that resulted from payments being delayed and money being reimbursed, "… the end result, barring any unforeseen changes… is a deficit of approximately $183,000. Now that's significantly different than it was in May.. $425,000."
Wilder cited the lack of mandated categorical payments as the reason for the deficit stating that the state of Illinois owes the district about $445,000 in those payments.
Changes included a large reimbursement of funds of around $110,000 from the Knox-Warren Special Ed Co-op, higher tax revenue of approximately $30,000, and a later than predicted payment for the HVAC project at Mable Woolsey. Speaking on the HVAC project, Wilder said that the work will be payed for, but not before the June 30th end of the fiscal year. Those payments will be approximately $100,000.
He said he sees no reason to believe the district will receive anymore categorical payments from the state.
Speaking on the situation at the state, Wilder indicated that the proposed 4-year property tax freeze would hurt the school district, as it represents "the only consistent revenue stream that schools have had over the last several years."
He added that he has asked the local legislators to calculate the projected revenue from such increases to weigh the impact of them with a property tax freeze.