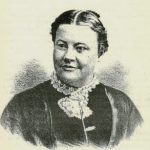 A tea party reminiscent of the kind Mary Allen West might have attended will be held to celebrate Mary Allen West's birthday, the first child born in Galesburg.
She went on to be a renowned educator, author, philanthropist and missionary and was the first female elected Galesburg Superintendent of Schools.
Despite her age, the remarkable West will be attending her birthday party at the Galesburg Public Library this Friday from 2 to 4:30 p.m.
It will be a tea party that's conducted by a group you might call experts on the subject, the Victorian Tea Party Ladies. They're experts in the etiquette and history of such gatherings.
Gluten free "fancies" will be ready for guests who give advanced notice.
The library is planning on this being a fun, education and entertaining event for all but tickets must be purchased ahead of time.
The cost is $10 and limited to only 50 attendees.
This is line with victoriana.com's advice that for a tea party a host should only invite as many guests as they "accommodate with ease."
West's actual birthday is July 31 but the library is billing this as a "fun, entertaining and educational" event to commemorate the life of one of Galesburg's foremothers.