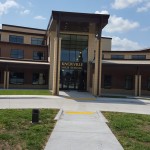 Community members are welcome to attend a town hall meeting being put on by the Knoxville District 202 Board of Education tonight.
The meeting is set to start at six p-m at the Knoxville High School Auditorium at 600 East Main Street. There, the board will present a revised board goals. hold time for public questions and comments.
District 202 will adjourn from that meeting and enter another meeting where they will conduct a public hearing for the 2017 Fiscal Year Amended Budget.
Following that, the board will enter their regular board meeting where they will consider recommendations for several staff and faculty members.
The board could also approve the 10-year Health Life Safety Survey, the approval of the 2017 Fiscal Year Amended Budget, and the Amended 2017-2018 School Calendar.