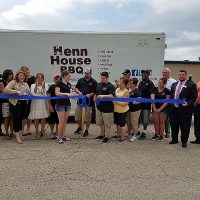 Fans of smoked meats and barbecue well enjoy hearing the good news, Henn House Barbecue is now running full time and will have food available for sale from their new food truck.
With the help of Galesburg-Area Chamber of Commerce, a ribbon was cut Wednesday to celebrate the special occasion. 
Owner Phil Hennenfent tells WGIL that they're working on figuring out when they'll get the food truck out to the customers.
"We're working on a schedule now. We'll try to be out Wednesdays, Thursdays for sure. Fridays will depend on our catering schedule for that weekend and as we kind of grow and learn again we'll kind of get things figured out and put a schedule out," Hennenfent says
Hennenfent says that he had never been one to cook, but after winning a Traeger grill from a WGIL giveaway, he decided to give it a shot.
The reaction from people trying his food had lead him into crafting and producing his own lines of barbecue sauces and ultimately into venturing into the catering business.