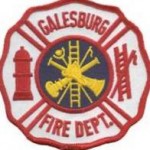 The American Red Cross of the Quad Cities and Galesburg Fire Department are joining forces in an effort to save lives by installing free smoke alarms and more.
Requests by Galesburg residents for a free smoke alarm installation, replacement of batteries in existing alarms, or to help a family create a fire escape plan can be made by appointment online at getasmokealarm.org, by texting the word ALARM to 844-811-0100, or by calling 844-319-6560.
The Red Cross urges residents whose homes do not have a smoke alarm or have smoke alarms older than five years in age to make an appointment, as well as residents who are unable to check the batteries in their alarms. There is no charge for the smoke alarms or the installation.
Working smoke alarms in a home cut the risk of death by half, and having an escape plan further improves the odds for survival in the event of a fire.
Amber Wood, the Executive Director for the American Red Cross in the QC says "having working smoke alarms and creating and practicing your home fire escape plans are two simple steps that can save your life.
According to a press release from the American Red Cross, seven times a day someone in the United States dies in a fire,. Since 2014 the Red Cross has been making an effort to reduce that number through their Home Fire Campaign, a nationwide, multi-year effort to reduce the number of home fire deaths and injuries.
Fire experts agree that some people may have as little as two minutes to escape a burning home before it's too late to get out. According the most recent statistics from the National Fire Protection Association, 2,560 people lost their lives in house fires. Those numbers come from 2015.
The Red Cross offers an all-inclusive app available for download through smartphone app stores by searching American Red Cross or going to redcross.org/apps