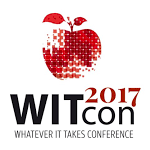 Over 300 education professionals will be coming into Galesburg next week to take part in the the second Whatever It Takes Conference, a professional workshop for educators.
WITCON as it is also known is being organized by Galesburg District 205, Carl Sandburg Conference, Regions of Education 26, 33 and gets underway on Wednesday.
Lombard Middle School Principle Nick Sutton says there are a lot of different things going on over the three day conference.
Presenting at WITCON is Matt Miller, author of Ditch That Textbook, as well as representatives from the big three tech companies Google, Apple and Microsoft. The big three will be at the CSC campus on Friday, showcasing their classrooms of the future.
Carl Sandburg College will be also showcasing tele-presence robots that are currently in use at CSC's Carthage Campus. Students from the Carthage campus log on and utilize them to attend classes at Galesburg.