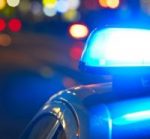 A Galesburg man is in the Knox County Jail for the second time in as many years for the same crime: allegedly assaulting a woman.
Galesburg Police say they arrested 29-year-old Kevin Thomas Jr. was arrested Saturday after initially fleeing officers who had spotted him in a bar. Thomas now faces felony Aggravated Battery charges.
The Saturday prior, May 27th, Galesburg Police went to an apartment on Home Boulevard, where three people claim they saw Thomas hit a 25-year-old woman with a gun, causing a head injury.
Thomas reportedly was on probation for an incident last year where he assaulted another woman after trying to run her over with his bicycle.
Thomas is now jailed on 100-thousand dollars bond, and court records indicate he'll make an appearance with an attorney Wednesday.