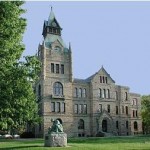 A Galesburg man has been handed a 40-year prison sentence in connection with a home invasion turned homicide last year. 
20-year-old Miguel A. Romo of Galesburg was sentenced Thursday in the death of 19-year-old Dakota R. Tinkham, who was found in March 2016.
Romo is among several charged in the case and faced first-degree murder, along with other charges.
Knox County prosecutors had sought 60 years. But Romo's defense attorney Scott Kamin sought a lesser sentence, saying Romo wanted to form a relationship with his 1-year-old son and missed his birth while incarcerated in Knox County.
Romo was found guilty in January. He didn't testify during his trial.