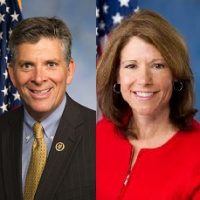 The National Center for Agricultural Utilization Research in Peoria is being proposed to cut under President Donald Trump's budget.
Ultimately congress holds the purse strings though and at least two congressman are fighting the closure.
Democrat Cheri Bustos and Republican Darin LaHood are united in asking the President to support continued funding for the lab.
LaHood says the work done at the lab benefits agriculture in the state and across the nation.
Bustos points out how the lab aids the local economy, does research that affects all Americans and has a rich history to boot.
Together they've written a letter to the President and are hoping other members of Illinois' congressional delegation will join them.
Bustos also says in a meeting with Secretary of Agriculture Sonny Perdue last week that she stressed the importance of the ag lab for this area.