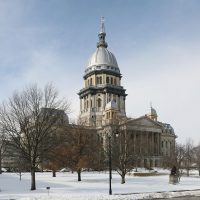 Area superintendents have had it and are venting their frustrations with the hang ups in Springfield.
ROWVA Superintendent Joe Sornberger says his district is waiting on over 400 thousand dollars in categorical funds and says that any additional education bills that are presented should be tabled until education is fully funded.
Sornberger tells WGIL that talks of freezing property taxes may not hurt larger districts like Galesburg or Monmouth, but it could potentially have a painful impact on smaller ones like ROWVA.
"For ROWVA, just taking the numbers on a two year freeze we would lose $354,000 in property tax growth due to our rising EAV," Sornberger says.
Sornberger says in a proration era that the 33rd region of education, which includes ROWVA, Galesburg, Knoxville and area schools like Monmouth-Roseville, United, and Abingdon-Avon, have lost eighteen million dollars.
He summed it up with an analogy, saying "I feel like we're a hundred yards from shore, and the state wants to throw us 38 yards of rope. We can only swim so far until we just flat out sink."