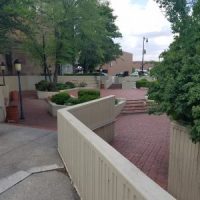 Park Plaza is getting a new look and last night residents gave voice to what they'd like to see in the downtown space.
Green and red stickers were citizens method of voting yesterday for what they would like to see in the new Park Plaza in Downtown.
Green was to signify they approved of a certain concept or idea and red to voice their displeasure with a certain proposal.
Consultant Kent Massie, who has been working with the city and Downtown Council on this project, says the two basic concepts that were presented last night are very flexible. Saying, "we can convert the space from a passive park-like plaza to an art fair, or a food market… to a concert… to a party place."
Massie tells WGIL that they are pretty similar in nature, save the fact that one has an option to be reconfigured to allow parking over the plaza in the winter months, saying "if we can keep this a uniform space with a lot of flexibility. Put in some good power outlets. Hopefully we can 'wifi' it and do some of the other modern things that are necessary. Could be a nice urban space tucked in here and a much improved parking area."
The concept that would allow winter parking over the new plaza, judging by red sticker count, seemed to unpopular.
Massie explain ideas like special lighting that could change colors and have somewhat of a light show at different times, which would surely bring a drastically new aesthetic.
Another would be a water-wall that you could do up and touch but not drown in it and Massie says this feature would have the added benefit of blocking some traffic noise from Main Street.
He says the Plaza may not be renovated precisely to order from the public input but he says the sticker voting certainly helps inform plans.
Regardless if that option is adopted the Simmons Street parking lot is being redone.
Kevan Cooper with Bruner, Cooper and Zuck says that the new parking lot would add 15 new spaces, and with more room for vehicles to maneuver and a sidewalk perimeter.