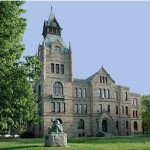 There will be no new trial for a Galesburg man convicted in December of the armed robbery of a teenager who came to Galesburg to buy a car through Facebook.
Knox County Circuit Court records indicate a judge Wednesday denied 26-year-old London Golden's motion for a new trial, and a motion to reconsider the 12-year prison sentence he received for Aggravated Robbery.
Golden is alleged to have assaulted a 17-year-old Canton male who came to Galesburg to complete a car purchase which had started on Facebook. Golden was convicted in December and sentenced a few months ago.
Newspaper reports state that Golden now intends to appeal the sentence he received, now that the court motions were denied.
Golden will only have to serve about half the prison sentence, however, because he can be considered for release.