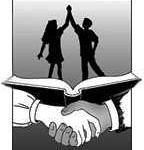 Student mental health concerns were brought up at Monday night's District 205 board meeting.
Lombard Middle School's Principle, Nick Sutton, spoke before the board explaining the need for additional mental health counseling within the school.
He presented a plan, using federal Title-One funds, to help address the mental health needs of students while also not adding additional payroll to the school's expenses.
Sutton tells WGIL that Title-One grant funds are federal dollars that cannot be used to pay salaries of staff, but can be used to pay for resources, programs, and subcontracting services.
The plan would involve partnering with Bridgeway, who would use these federal funds to hire a full-time mental health counselor who would work exclusively at Lombard.
He says the mental health counselor would also be available year-round at the middle school during summer breaks, for the families of students.
Sutton stressed this plan would not affect district finances and said there is a pretty significant need in regards to mental health concerns at Lombard
He called this idea is a win-win-win for Lombard, Bridgeway, and students.