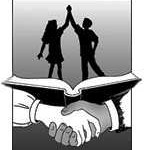 Four teachers that had received reduction in force notices earlier in the year have were called back as of last night.
The District 205 board of education approved the personnel agenda that included the call back of Diana Barnes, Karen Steck, Barbara Slaton, and Ellen Rush into positions that will be determined at a later date.
Additionally, Tim Dougherty, the high school football coach, came before the board asking the board for the reinstatement of one of the two assistant football coaching positions cut over a year ago.
"And I just think that two of them was drastic," Dougherty says. "I've kind of revisited it, lived with it for a year and I think that's my position."
Dougherty cited player health concerns, and coaching workload, as a primary reason to bring on the reinstatement.
The board did approve continued contract with the district architect, and district attorney as well as hearing positive news on the amended budget for fiscal year 2017.
Assistant Superintendent for Finance and Operations, Jennifer Hamm started off her presentation saying that though the state still owes the district $2.7M for mandated categoricals, she had positive news for the board saying the district had saved over $236K.
She said that the district has controlled expenses in various categories including salary, maintenance, and transportation.
Superintendent Ralph Grimm says the budget will be on display for the public for 30 days and in a June 22nd, it will be voted on.