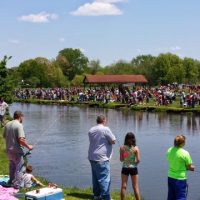 The Galesburg Youth Fishing Derby kicks off today at Lincoln Park on the northern side of town with registration at noon and first casts to start at one. The event has been going on for thirty years and Al Hayden, who's been a part of those thirty years, says it's always been held at the lagoon at Lincoln Park. Hayden says that the derby has been a success because of the cooperation with the city.
"One of the outstanding things about our fishing derby that we have in Galesburg," says Hayden, " is the cooperation with the city, the parks department, and the recreation department. It's always mowed up really nice so there's not a bunch of weeds and you can get right up next the edge of the pond plus all the fish they dump in their so its a target rich environment for the kids to catch a fish quickly."
Hayden says that while some fishing poles will be available to borrow but participants are asked to bring their own pole and bait. The event is free and children between the ages of two and fifteen can participate, as well as food and sodas will be available for purchase.