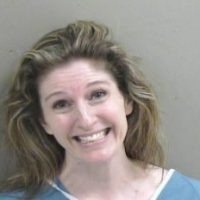 A Galesburg man is hospitalized in Peoria, and a Galesburg woman is charged with Attempted Murder after allegedly striking a bicyclist and dragging the bike with her Jeep.
The Knox County Sheriffs Department says 45-year-old Jacqueline Wells is in the Knox County Jail awaiting future court appearances, and also faces nearly a dozen other offenses including DUI and Aggravated Battery.
The incident happened yesterday morning, after retired Galesburg Police Captain Andrew Tolle told investigators he was riding his bike near the Lake Bracken boat dock on Knox County Highway 26 Tuesday morning when Wells allegedly started making obscene gestures at him, and also appeared to be yelling.
Wells allegedly then struck Tolle's bike twice, and ran over Tolle when he fell off. Police weren't alerted until motorists called 911 claiming they saw a Jeep dragging a bike down Route 41.
Wells was stopped by Galesburg Police later, near Henry Hill Correctional Center.
Tolle is in a Peoria hospital.
Wells was briefly hospitalized herself. The Sheriffs Department says their investigation continues.
The full list of charges filed against Wells:
Murder (Attempted)
DUI
Aggravated reckless driving
Leaving the scene of an accident/personal injury
Improper lane usage
Aggravated battery/public place
Aggravated battery/victim over 60
Aggravated battery (no firearm)
Aggravated battery/great bodily harm
Failure to notify police authority
Failure to render aid