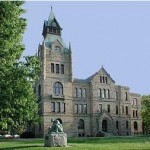 Work is underway on the Knox County Courthouse exterior, and unfortunately, additional expensive issues have sprung up that need to be addressed.
At the Knox County Building Committee meeting last night, Cody Basham of Klinger and Associates gave some expensive bad news to committee members.
For starters he says that the stone around the windows will need patched.
"So in replacing the sealant on the windows there are areas where the stone is coming with the sealant," Basham says. "The water has gotten behind the stone and is delaminating it so much that really the only thing that's keeping the stone on is the sealant, which we're replacing."
The committee approved a change-order at a cost of $8,800 to patch the stone but that wasn't all.
Basham also recommended the board approved the $11,192 for the drip edge on the south side of the courthouse roof which they did.
On the positive side, the county was able to save $2800 on roof work that was deemed to be good as is around the HVAC units.