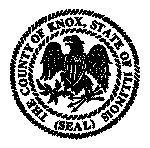 Work is underway on the Knox County Courthouse exterior, and unfortunately, additional expensive issues have sprung up that need to be addressed.
At the Knox County Building Committee meeting last night, Cody Basham of Klinger and Associates gave some expensive bad news to committee members.
For starters he says that the stone around the windows will need patched.
Water had gotten behind the sealant and delaminated the stone to the point where pulling up the sealant causes the stone to come up as well.
Basham says there are between 140 and 150 windows on the courthouse.
The committee approved the change-order at a cost of $8,800 to patch the stone.
Another issue Mr. Basham brought to the committee involved the north side of the courthouse, which he called "the worse face of the courthouse."
Basham says the courthouse's top band has delaminated stone, and the contractor recommends consolidating the stone, which would be a chemical application to help seal the stone from absorbing moisture.
Costs of applying water repellant and repeat applications every two years was a major concern for the committee which Basham thought would be between 70,000 and $80,000 per application of the whole building.
He recommended the committee table the discussion.
On the south side of the building, Basham presented the committee with work he recommended the committee act on immediately.
Basham believes this area is directly responsible for the water damage to walls in the States Attorney's office.
The board approved the $11,192 for the drip edge on the south side of the courthouse roof.
Additionally the committee approved a motion to have Basham to inspect the annex building roof,
On the positive side, the county was able to save $2800 on additional roof work around the HVAC units.
Basham says he feels those areas are in good enough condition that they can move on, and use the money in the other areas of need.
Additionally the committee says the work at the Sheriff's office was nearly complete.