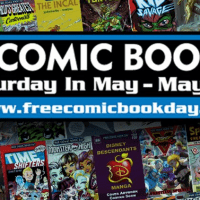 Whether you're looking to help kids, snag a free comic or are just looking for fun, this weekend is chock full of superheroes.Tomorrow  is Free Comic Book day across the country and Stone Alley Books and Collectibles in Galesburg is taking part.
Owner Ben "Stone" Stomberg says that they have 4,500 ready to be given away when their doors open at 10 a.m., with each person who stops by able to pick out five comics to take home.
Stomberg says staff spent all day Thursday stuffing bags full of door prizes and stamping comics.
The comics are free for patrons but not everybody…
"The publishers come up with deals for the dealers to do this but yes, it does come out of my pocket," Stomberg says. "It's just my way of giving back each year."
Then CASA of West Central Illinois ask residents to bring out their inner superhero for a good cause.
Their "Be a Superhero for Kids" 5K and 1 mile fun run will be taking registrations starting at 8 a.m. tomorrow in front of Cherry Street Restaurant where the race will start and finish in downtown Galesburg.
Race winners will get their own custom made cape in lieu of a medal.
You can also register online right away at casaofknoxco.com.
Finally the Galesburg Public Library is holding Comicfest from 11-3.
A costume contest will get underway at noon but there will be a host of activities before and after.
A caricature artist will be on tap, Youth Pokemon league will run throughout the time period and balloon artist Balloonatic Tracy will there for entertainment.