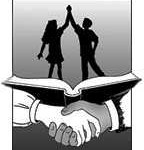 Heated discussion took place at the District 205 special meeting on Tuesday night between school board members and the GEA.
During public comments, GEA President Dave Sharp asked the board to table a vote regarding involuntary transfers of staff on the personnel agenda, saying the plan was hastily thrown together with no regard to qualifications of staff involved.
During the personnel agenda, board member Josh Gibb gave his rebuttal saying "I actually trust that these people have gone through, they've done the due-diligence and they've come up with recommendations based on what people's certifications are. And I think to insinuate anything else is adversarial and wrong." Gibb would suggest the new board hold a special session to work out the transfers with the GEA.
Board member Wayne Statham addressed Sharp directly during the meeting "you said it yourself, it sounds like something that could be worked out. So, if we have to switch A with B, because you think we weren't following the guidelines, fine. We'll have to switch A with B."
The council pulled the transfers and change-in-status section from the personnel agenda with the intention of the new board to address them in a special session on the 16th. It was put to a vote and approved 6-1 with Gibb voting against it.