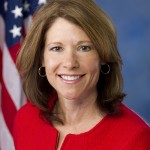 The bill that would repeal and replace President Barack Obama's Affordable Care Act has passed the U.S. House, but not with the support of our area's local congresswoman.
17th District Democrat Cheri Bustos, along with virtually every other Democrat, voted against the measure Thursda, and cited on the House floor a Knox County family whom she says would be adversely affected.
"People like Emily Carlson…she's a small business owner and mother of two from rural Abingdon, Illinois," says Bustos (D-East Moline).   "She lives with [Multiple Sclerosis] — a life-long and very expensive pre-existing condition.  Before health care reform, Emily and her husband Kevin — a farmer — often had to sit around the table at night, go over their bills, and decide between sickness or debt from one month to the next."
Bustos says as devastating as what she calls "Trump Care" would be for Americans in general, she feels it would be even more devastating for rural Americans.
Bustos says the time leading up to the bill's vote was not how Washington is supposed to work.  The repeal bill now goes to the Senate.