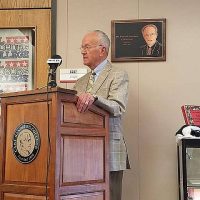 Former Carl Sandburg College President Dr. William Anderson has been a collector all his life.
Whether it be baseball cards, letters from his brother while they both served in the military, or a collection of vintage Detroit Tigers photos that outshines the Baseball Hall of Fame, Anderson is a preserver of history.
Some of the history that he's held on to he has gifted to the community college he used to lead.
The Dr. William Anderson Collection, dedicated at a ceremony yesterday, contains newspaper clippings, autographed books, letters memorabilia and more.
Some of those items include handwritten notes from when Carl Sandburg's daughter Helga gave the commencement address and correspondence with actor of the stage, screen and radio, Burl Ives.
Anderson says that the collection is in the perfect place at the Sandburg Library.
"I love that this is in a library because I love libraries," Anderson says. "When I was a graduate student I would skip meals and save the money to buy a book. I majored in history at Central Michigan University and took a heavy load, but when I wanted a rest I went to the library."
Anderson served as Sandburg's second president from 1977-83.