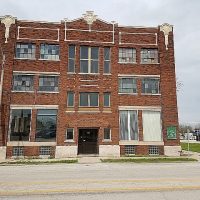 A new term began last night for Galesburg Mayor John Pritchard as well as Alderman Wayne Allen, Corine Anderson and Wayne Dennis.
They began with approving an option on final reading to allow Kit Wilcox and a group of investors to purchase what was Ferris Moving on Mulberry Street with the intention to make it in to a boutique hotel.
Council unanimously approved the option on the city owned property and Wilcox greeted each member with a handshake after the meeting.
Tune in to Galesburg's Evening News at 5:10 tonight as Wilcox talks to Will Stevenson in more detail on his plans for the hotel.
The new council also approved a contract bid to replace some 400 lead water service lines.
This was the first contract for these service lines to be replaced through $4 million in forgivable loans from the Enviromental Protection Agency.
Director of Planning and Public Works Wayne Carl says the bids were originally much higher than what had been estimated.
He told the council there can be a lot of unknowns for a company undertaking this project.
"When you've got 400 services, it's a big contract. Some contractors were a little afraid of having that big of a contract but we worked with them and we were able to lower the price by $300,000 on the contract," Carl says.
Carl expects a bid out for another round of service line replacements in the fall sometime but this first was likely the biggest contract.
This uses about $1.7 of the $4 million of funds from the EPA and will allow the replacement of about 400 lines.