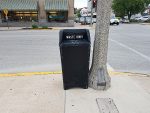 Galesburg's Public Art Commission is looking for artists or students of art to help beautify the downtown garbage cans.
GPAC's acting President Heather Norman says the idea has been done in other cities and include such non-traditional canvases such as electrical panels and storm grates.
She says that the Galesburg Downtown Council came up with the idea, and that painting these unusual objects help add character to a town.
Norman says there are 20 trashcans that are being prepped for painting with about 38 more that are in the Downtown Council's storage.
Artists can submit up to three designs for the trash cans, and the theme is Galesburg Past, Present, and Future.
More information an be found at: gpac.co