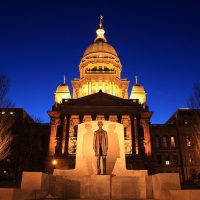 Senator Chuck Weaver recently hosted nearly three dozen high school students at the Illinois Capitol for his Youth Advisory Council. Students got a chance to draft mock legislation and then get it passed through a committee with all the discussion and debate of a real legislative committee. Weaver was also quick to boast about the quality of speakers students heard from, who according to Weaver spanned experts from both the private and public sector. The senator says this was more than just a class on state government.
"What I really challenge them to do," explains Weaver, "is think about how they transition their thinking form where they've been with regard to things in their lives that help them think a certain way. But as they get into a room with really smart people how do they look at things possibly differently and think about what they may want to do differently with their lives."
Students also got the chance to visit and be recognized on the senate floor as well meeting the reporters, lawmakers, lobbyists and the governor. 21 different high schools across Weaver's district were represented in the council including Galesburg, Mercer County and Peoria Notre Dame.