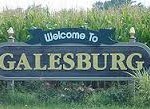 Galesburg officials have unveiled future plans for the downtown area including bike trails, public art and a Ferris wheel. 
Reports that a landscape architecture firm has presented a plan to city officials. The long-term plans could be completed within about 20 years.
A member of the Galesburg Public Art Commission says downtown could feature rotating sculptures from around the world.
Wayne Carl the city's director of planning and development says the projects will take place depending on funding and he's been looking at state grants that could provide up to $2 million.
City officials say private groups could also get involved.