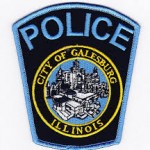 You can't go to the Galesburg Public Safety Building for a few days starting now.
Police Captain Chris Howard says now through roughly Wednesday, the Public Safety Building lobby will be closed and the doors locked for the first time in as many as 40 years.
But Howard tells WGIL the closure is because of something else that's needed to be done for probably many of those 40 years.
Galesburg Police Captain Chris Howard says that's because work to replace the floor in the lobby is taking place this weekend, and it needs time to cure and settle, so that work will be going on through Monday.
Then on Monday, the counter in the library will be demolished and replaced, and that should take the rest of the closure time.
During business hours starting Monday, Howard says you can go to the City Clerk's office in City Hall and have an officer come talk to you. But, over the weekend, he says you would best be served by calling 911 if it's an emergency, and by calling the non-emergency line at 343-9151 otherwise.
It's the first time in 40 years the P-S-B lobby doors have closed — something Howard jokingly says no one really knew until he went to find the key.