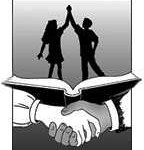 A public forum was held last night by the Illinois Association of School Boards to give the community an opportunity to meet and ask questions to the finalists for the District 205 Superintendent position. 
All are currently superintendents in nearby districts, John Asplund of Farmington Central, Brad Cox of Erie, and Stephen Wilder of Knoxville shared both their successes, and their beliefs on their roles as superintendents.
Mr. Asplund proudly explained how Farmington had implemented solar panels in an effort to decrease their electricity bill, and in doing so saved $140,000 in the first two years of the projects existance.
Mr. Wilder expressed his belief that schools need to transiting into social media to help create transparency and engage with community members in addition to nurturing and encouraging teamwork.
Mr. Cox talked on keeping the staff and faculty connected, incorporate additional training and support as they're needed, and to create a successful and productive culture for teachers and students.
The finalists also gave their intent to move within the district, but cited the difficulties in the logistics of moving a family with children.