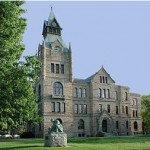 A Galesburg man already in prison for possessing heroin earlier in 2016 has now pleaded guilty to one of several drug and weapons charges filed later in the year.
Knox County Circuit Court records indicate 29-year-old Jamie Campbell pleaded guilty to a charge of Possession of a Controlled Substance following what was supposed to be a final hearing prior to trial Monday.
Other felony drug charges along with counts of Armed Violence and Possession of a Firearm by a Felon are being dismissed as part of a plea deal.
Campbell was arrested in mid-October of last year after his Ella Street home was raised, and drugs including crack cocaine and heroin, along with stolen guns were found.
Campbell is already in prison serving the remainder of an 18-month term for a drug case filed earlier in 2016.
In the new case, Campbell could be sentenced to as much as 15 years in prison.