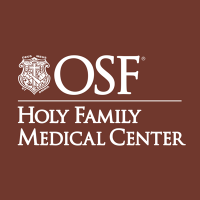 In 2007, Community Medical Center joined the OSF family and became OSF Holy Family Medical Center.
Since then, $13M worth of renovations and upgrades have been made to the facility including a renovated Medical Group, Rehab and Specialty Clinics, upgraded Diagnostic Imaging, as well as a state-of-the-art surgical department, and more recently a new Emergency Department waiting area.
The upgrades and renovations have allowed OSF Holy Family to better serve the community with specialty services including podiatry, orthopedics, cardiology, urology, and neurology.
Founded in 1897 as Monmouth Hospital, funds were raised to build a replacement building for the hospital in 1904, with operations outgrowing the original building and additions being added in 1910, 1939, and 1957.
In 1963 a new hospital was built and named Community Memorial Hospital, with funding provided by a combination of government grants, federal loans, and local subscriptions.
In 1998 the hospital's name was changed to Community Medical Center and it would be that way for the next nine years.