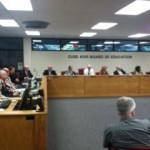 The District 205 school board last night approved the recall of nine teachers that had received reduction in force notifications in February.
Superintendent Ralph Grimm said it felt good to get these recalls out two and a half months before the deadline they gave themselves.
"We did what we needed to do in February to position the district  knowing what was going to happen to funding in some areas, not knowing where the Knox-Warren Special Education co-op district was going to be located," Grimm says.
Grimm continued saying he hopes to notify more staff that received RIFs, adding that there was some financial risk in bringing back the staff, but felt it was "a good risk to take"
The board also approved the replacement of the Lincoln Center roof by R-A Oldeen of Kewanee for $569,000, much lower than the original budget of $800,800, as well as the bid for steam service tunnel work for just shy of $50,000.
The board also approved changes to the district athletic code, including updating the eligibility requirements to be more inline with IHSA standards, as well as changes to the language regarding students who are charged with acts of violence.