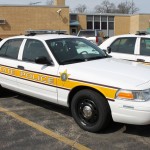 The Illinois Department of Transportation and Illinois State Police are urging riders to take precautionary measures before getting on their bikes, and refreshing their skills with a training class being offered by IDOT.
Illinois is one of two states that offer free motorcycle training classes to licensed residents.
The Cycle Rider Safety Training Program began in 1976, and since it's creation, more than four-hundred-thousand riders have taken advantage of the opportunity to learn more about motorcycle safety.
In a press release, ISP Director Leo P. Schmitz said "We strongly encourage all riders to attend a motorcycle safety course"
Last year was an above average year in the number of motor vehicle related deaths in Illinois.
Numbers published on IDOT's website indicate that one-thousand and eighty-one people lost their lives on Illinois roadways.
Of that number, one-hundred and twenty were motorcyclists. 
Drivers are encouraged to always be on the look out for motorcycles as the temperature warms up, and more motorcycles appear on the roadways.