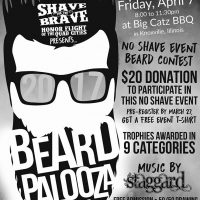 Donkey basketball and a beard contest are among the events going on in the Knox County area this weekend.
Shave for the Brave might be a slightly misleading name for this weekend's event.
But just like with past events the group has organized all proceeds raised will go towards paying for veterans to take the Honor Flight of the Quad Cities.
The Honor Flight takes veterans to Washington D.C. to see the memorials dedicated to their service.
There will be no shaving tonight from 8 to 11:30 p.m. at Big Catz BBQ but beards will abound.
It's a no-shave beard contest and lest anyone think it's only for the hairiest and grizzliest Crystal Wilson with Shave for the Brave says there are 9 different categories.
Even the ladies can join the beard excitement.
"It's called whiskerina, so you can build a beard and come out and show it off with doll hair, mops. Whatever you want to do," Wilson says.
Local celebrity judges that will render a verdict on all the various whiskers include 74 State Representative Dan Swanson, Yemm Ford's Rick Sandoval and former Knox County Board Chair Greg "Chopps" Bacon.
Country band Staggard will provide musical entertainment. 
Then Sunday Abingdon/Avon FFA is asking the question; you can play basketball but can you play it on a donkey?
Students, staff and community members participating are going to find out.
In the good ole day players would have to clean up after their animals but the FFA hired Three Amigos Pooper Scoopers.
Donkey basketball is going on Sunday at 4 p.m. at the A-Town High School Gym.
Cost is $10 at the door and all proceeds will go to the FFA scholarship fund.