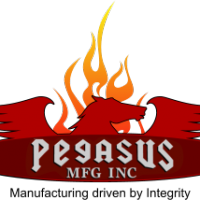 Pegasus Manufacturing has announced plans to expand its operations within the city of Galesburg.The announcement came in a press release yesterday that the manufacturer of precision machined parts will be renovating an adjacent structure to accommodate their new forging die business and with it bring about twenty-three new jobs over the next three years.
Ken Springer, the President of the Knox County Area Partnership for Economic Development says that advanced manufacturing has been identified as a competitive niche for the city.
He continued saying " area educational institutions have recently invested more time and energy and resources into vocational education programs specifically for advanced manufacturing."
"This is exactly what you want to see for economic development in your community," Springer says. "It's a perfect match of workforce development and expansion in the industries that we're targeting as a community."
Pegasus will be seeking funds for the expansion from matched loans from First Mid-Illinois Bank and Trust as well as the City of Galesburg's Revolving Loan Fund.
The city council will be asked to approve the loan at the April 3 meeting.