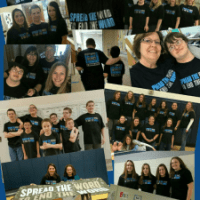 Today is World Down Syndrome Day and events are being held around the world to put a spotlight on the condition and drive away stigma surrounding it.Students and staff at Lombard Middle School are wearing green shirts today in support of a Zephyr who passed away in January.
Lombard Life Skills teacher Molly Schaeffer says the shirt that read livelikejoel are green because Joel Wynkoop was a huge fan of the Shrek movies.
Schaeffer with other staff and students also put together a video that encourages people to stop using the word "retard" to refer to people with intellectual disabilities.
Through music and slides some students talk about their family members with developmental disabilities and the sting the r-word can have.
The video specifically was made for Spread the Word to End the World National Awareness Day that has it's origins with Special Olympics.
For more information on the campaign to end the r-word or take their pledge, visit r-word.org.