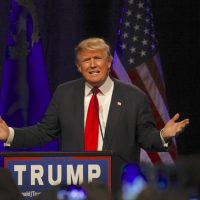 President Donald Trump's first joint address to Congress Tuesday night was largely applauded by Republicans.The three Democrats that represent Knox County and Illinois in Congress Senators Dick Durbin and Tammy Duckworth and Rep. Cheri Bustos were less impressed.
Durbin says Trump offered up more "big promises but didn't offer any real plans to achieve them."
The Assistant Minority Leader in a statement went on to criticize Trump's travel ban from seven nations, increased illegal immigration enforcement and proposed repeal of the Affordable Care Act.
President Trump said in his remarks when it comes to healthcare he wants the reforms that "expand choice, lower costs and at the same provide better healthcare" and during the campaign promised that "everyone would be covered."
Bustos fired back that repeal would mean "higher premiums, tax hikes on working families" and returning to when insurance companies could deny patients with pre-existing conditons.
Bustos and Duckworth both indicated support for the Presidents' plans for an infrastructure bill.
Trump called on Congress to pass a $1 trillion investment in public infrastructure through a combination of private and public capital.