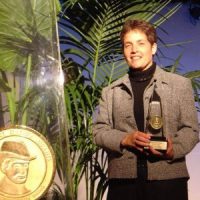 Capping off three decades of being perhaps Galesburg's most recognizable voice, WGIL's Terry Cavanaugh signed off for the final time at 6 p.m. last night.
Cavanaugh became a staple for Galesburg radio fans on everything from the station's morning show, midday and ended as host of Galesburg's Evening News and afternoons on KFM.
Throngs of well-wishers congratulated Cavanaugh through social media, phone calls and in person.
Some of her most frequent guests who called in were former State Rep and Assistant Ag Director Don Moffitt, Knox Galesburg Symphony conductor Bruce Polay and historian Tom Wilson, not to mention a cavalcade of colleagues from the past.
When she started in 1987, Cavanaugh didn't expect to be in Galesburg so many years later, thinking it would be 2 to 3 years tops.
What could likely be considered the pinnacle of her professional career was winning the Small Market Radio Personality Marconi Award,in 2004, which means she was selected as the most outstanding of thousands of personalities across the nation.
"But I think one of the coolest things was the following year when the National Association of Broadcasters put out their brochure for nominations and my picture was on it," Cavanaugh says. "That was very cool."
Cavanaugh's final guest was Orpheum Theatre Executive Director Kevin Maynard.