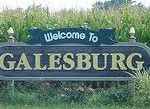 Galesburg and Knox College are both turning 180 years old this year. To mark the occasion local actors and historians have put together a program this evening that harkens back to Galesburg's 50th birthday party. Gail Masinda says this got started when she was doing research on Mary Allen West. West's writing contained a wealth of information on Galesburg's celebration of the semi-centennial, a celebration of 50 years.
11 actors will portray the actual people who gave speeches at the semi-centennial celebration of Galesburg, Knox and Old First Church.Old First Church was where Central Congregational Church now stands. Many familiar faces to Galesburg residents will be performing including Harry Bulkley, Owen Muelder, Rex Cherrington, and Bill Butts.
Masinda tells WGIL everything that's spoken were words that were spoken at the 1887 celebration.
Most of the speeches at that time," Masinda says, " were substantially longer and I think peoples patience to listen to long speeches was more in vogue. It's actually the semi-centennial of Old First Church so that's the one that they're doing so it was the founding of Galesburg, Knox College, and Old First Church."
The event is at 4 p.m. tonight at Central Congregational Church and is free to the public. The final three speakers of the night will be Don Moffitt playing attorney E.P Williams, Knox President Theresa Amott playing then-Knox President Newton Bateman and Masinda playing Mary Allen West.