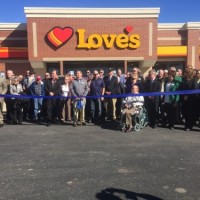 Love's Travel Stop and Country Store is now open to travelers and locals alike in Knoxville where Highway 9 meets 10.
An official ribbon cutting was held yesterday with representatives from the City of Knoxville, District 202, the Galesburg Area Chamber of Commerce, Knox County and Love's just to name a few.
With Love's opening comes 60 jobs.
The stop is 11,000 sq. ft that's open 24/7, except for the restaurants, a Subway and a Chester's Fried Chicken.
The official cutting of the ribbon was done by Store General Manager Andy Gier, Knoxville Mayor Dennis Mauer and his predecessor Bob Johnson.
Gier also announced yesterday that Love's has made a $2,000 contribution to the Knox County Fair. 
Founder and Executive Chairman of the Love's company Tom Love says in a news release "We're excited to serve residents and be in a convenient position to assist drivers commuting between Davenport and Peoria."