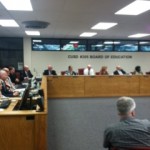 The District 205 School Board authorized a handful of measures last night that are closer to becoming expenditure cuts for next year.Among those approved to go forward are reorganizing health service delivery, library services and over 60 Reductions in Force.
RIFs don't automatically mean an eliminated job, but if there's any possibility of a position being eliminated it must be approved this month.
Member Jean Ann Glasnovich said with nurses and librarians it's sometimes less than apparent what the full scope of their job is.
She says however when it comes to safety and security, going with less experience isn't the way to go.
"I know this doesn't save money but I would like to see any opportunity to try putting some LPN's in some of the schools, perhaps elementary schools to help cover when there's no one there to cover," Glasnovich says.
They tabled a measure to eliminate some positions in reconfiguring security at the high school.
After several effected employees gave comments and vigorous discussion this item was tabled.
Superintendent Ralph Grimm asked the board if they would favor bringing back a dean and assistant principal position, which they informally agreed to.
One measure was struck down.
That was to replace the district's outreach workers with vice-principals which actually would add about $40,000 in costs.