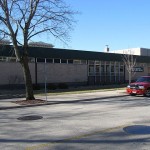 The Galesburg Public Library has hosted The Big Read almost every year since the National Endowment for the Arts established the program. They apply for the competitive grant to put on the program every year. Once again they were among about 70 communities that received federal tax dollars to coordinate community programming around a specific book off the NEA's list.
This year instead of a book per-se, the events are centered around poetry, specifically the work of Emily Dickinson.
"So all of our programming," Pierce says, "is going to be about the life of Emily Dickinson, her poetry, and just poetry in general so if your just a poetry fan we are going to be doing a lot of cool things for National Poetry Month which is April."
The Big Read runs from Mar. 3 through April 29. Pierce promises the kickoff will be a treat for fans of the library and Galesburg Historical Society's Halloween event, the Ghosts of Galesburg.
Titled Galesburg's Dead Poety Society on Mar. 3 at 6 p.m. seven different actors portraying dead poets will be stationed around library ready to give their biography and do a poetry reading. Gertrude Stein, Emily Dickinson and of course, Carl Sandburg will be some of the poets actors will be playing. The library usually gets a previously published book and buys a few hundred books to give away. Since Dickinson's work is in the public domain they decide they would make their own books.
The book also has art provided by local artist Holly Whit Alison, that doubles as coloring pages.