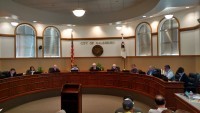 Galesburg alderman held discussion last night on an item that will get rid of residency requirements to serve on the city's boards and commissions.
Mayor John Pritchard says the motivation of this item is to expand the candidate pool they can draw from.
He says that there are a number of quality candidates who would serve but they live outside city limits, for example Lake Bracken.
Ward 5 Alderman Peter Schwartzman seemed to recall that current commissioners were not in favor of this.
City Clerk Kelli Bennewitz says that some commissions, like Community Relations and Public Transport already lacked a residency requirement.
Council officially minted the Department of Planning and Public Works with a 7-0 vote.
This aligns city code with current organizational structure, and makes Wayne Carl the new Director of Planning and Public Works.
Council also approved going forward with renovations at the Public Safety Building for $418,000.
The work is being funded by drug seizure funds.
Pritchard thanked with a wink "those many visitors for coming to our community."