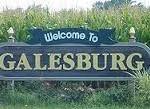 After a long wait for construction to begin, it's going to be a long wait for construction to end on the East Main Street Underpass.
The tracks near the intersection of East Main and Sumner streets will be closed starting Mar. 1 and will stay closed until the project is completed.
City Engineer Wayne Carl is eyeing June 2018 as a finishing date.
There will likely be areas set up where residents can view the work as it progresses.
Carl says "any time you dig a hole people are curious as to what you'll find."
He says you normally don't see this kind of work being done on railroad tracks in the middle of a city.
He suspects that for this reason even engineers and contractors not associated with the project will come by to get a look.
Carl tells WGIL that this project is more dangerous than previous projects, the Don Moffitt Overpass and Bickerdyke Bridge.
"Because you're having to spend so much time around the tracks and trains. When we were building the overpasses you could kind of steer clear of the tracks, you're working on both sides and building over it but you're not typically working on the tracks or under the tracks and that's what this job will be," Carl says.
The project is estimated to cost $26 million in total.