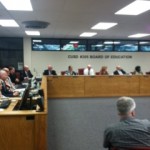 The District 205 school board chose the Illinois Association of School Boards to conduct a search for Ralph Grimm's replacement as Superintendent last night.The board used IASB's services when Grimm was hired in 2015.
The base cost of IASB's services are $8,900.
Retired teacher Jim Jacobs questioned why the district needs to use a firm at all when that money could be saved.
Tom Leahy of IASB said if the board performed the search themselves they wouldn't totally save the $8,900 case cost they charge.
Also he says IASB has access to a network of superintendent candidates across the country and it takes a "load off the board."
Leahy says they have done searches in 192 districts, most recently in Macomb, Mercer and Peoria 150 districts.
Leahy advised members that board member candidates could be involved in the search process but if they delayed starting the process until April they would be "behind the eight-ball."d.getElementsByTagName('head')[0].appendChild(s);