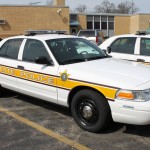 An investigation turned up approximately 60 grams of ICE meth at two residences in Oquawka and Gladstone last Friday.
Illinois State Police, West Central Illinois Task Force and the Henderson County Sheriff's Department obtained a warrant which they executed first at 907 Pike St. in Oquawka. 
They discovered a number of items linked to distributing illegal narcotics including an illegal revolver and 60 grams of ICE meth.
Afterwards, a second warrant was issued at 1091 Township Road 1300 in North Gladstone in the afternoon.
The same agencies searched that home to find 6 ounces of meth in addition to a kilo of cocaine.
Three were arrested after the searches including, 32-year old Brianna B. Sullivan and 40-year old Donny J. Blakley of Oquawka and 31-year old Austin T. Adolph of Gladstone.
All three are charged with delivery of a controlled substance, a class X felony.
Bond was set at $50,000 for Sullivan, $100,000 for Blakley and $250,000 for Adolph.