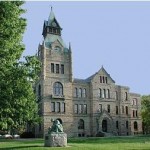 Now it's up to voters.
The Knox County Board last night approved a resolution placing a measure on April 2017 ballots to create a Knox County Board of Mental Health.
All 13 members present voted in favor.
Knox County is only among about 25 percent of Illinois counties without such an agency.
The 708 board would be able to levy a portion of county property taxes to distribute funds to programs and organizations like Bridgeway, RFMS or Camp Big Sky.
The board also approved replacing furniture for the Knox County Jail's investigation office.
Member Bob Bondi says the $7,800 cost was budgeted for out of the public safety fund.
Also from the Sheriff-Jail-Courthouse Committee came an approval of a licensing agreement.
The yearly $7,800 fee will allow the county to alert residents via text about emergencies like tornadoes or a suspect at large.
"It's a great safety item for the county to have that kind of extra element now that we have a 911 system that will actually communicate through the cell phone," Bondi says. "It would be very similar to what you get when you get an amber alert."
Amanda Jennings stepping into the 911 Coordinator, role after Vicki Miller's retirement, will work on implementing these updates.