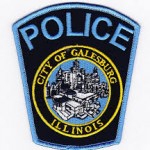 A police chase took place early Monday morning following an alleged instance of domestic battery.
Galesburg police responded to the 1000 block of W. Losey at around 3 a.m. to reports of a possible domestic situation.
When officers arrived they saw a black male jump a fence in the backyard and head east through several backyards before surrendering when cut off by a separate officer from Lawrence Avenue.
Officers located a man, later identified as Damond N.R. Martin, a folded playing card, which tested positive as less than a gram of MDMA.
A female victim had "blood all around her face and shirt" including an inch and a half open wound on her eyebrow and a swollen purple left eye socket.
Officers also observed her neck was red, as if she had been grabbed.
A female friend of the victim told officers that she had tried to stop Martin when he grabbed her neck and began pushing her head into walls.
Martin was taken to the Knox County Jail where he refused to be questioned.
Police reports say he was arrested for aggravated battery and aggravated domestic battery.