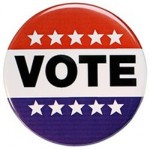 The deadline has passed for candidates to file for the Spring 2017 municipal elections.Races to be decided include seats on school boards for Abingdon-Avon, Knoxville and Galesburg schools.
One of the big races in Galesburg will be John Pritchard against Walt McAllister for mayor, now officially a two-man contest.
Incumbent Alderman Wayne Dennis of Ward 2 and Corine Anderson of Ward 4 will go unopposed but now Ward 6 Alderman Wayne Allen has two challengers.
Chris King announced her intention to run last week and retired police officer Torry Carnes filed yesterday making the lone challenged council race a three-way contest.
Knoxville's school board also will see a challenge.
Three seats are up for grabs with four candidates, including incumbent members Jim Lenz, Randy Bryan as well as President Patrick Callahan.
Trent Ericson is the fourth candidate to file.
Abingdon-Avon's school board looks to be intensely competitive as 11 candidates run for four seats.
Three incumbents are running including Board President David Serven.
Candidates running for a first term include; Brittany Terwilliger, Richard Quinn Sr., Chris Nagel, Lisa Zucco, Randall Cooper, Joshua Pierce, Scott Cameron and Matthew Stegall.
A previous version of this story indicated there were four vacancies on the Knoxville School Board and Brent Shreeves was not running. In fact there are three open seats and Shreeves term has not expired. WGIL apologizes for the error.